TomYam Half Of Manchester
As many football fans are aware. Ex-Thailand Prime Minister, Mr Thaksin Shinawatra, has completed the takeover of English Premiership club Manchester City for a whopping £81.6 million last Friday.
With the Thai mogul at the helm, I'd bet he will be pushing the management to start bringing local Thai footballers into the scene.
The motives are quite obvious, on top of the genuine interest to want to lift local standards of football up a notch, the ex-PM hope that this little PR exercise would find him back in favour with the people of a football crazy nation.
Anyway, let's not talk politics here. Today's entry is all about the beautiful game and I shall focus on the primary motive.
In order to bring Thailand's game up, exposure is essential. It is analogous to that of a transfer of technology when high tech firms come set up shop in our own backyard.
Exposure by way of sending promising Thai prodigies up to Manchester and train from the bottom up. From youth team to B team and who knows, we will start to see gems emerging onto the Starting XI.
10 years ago, an Asian face on the pitch of EPL was unthinkable. Yes, granted we have our own Fandi Ahmad playing in FC Gronigen but seriously (a) it was a fluke and (b) he didn't make a very big impact, did he?
Today, Asian names are all over Europe with names like Nakamura, Nakata, Inamoto, Sun JunHai, Dong FangZuo, Park JiSun, just to name a few. It won't be long before we see names from our part of Southeast Asia.
Needless to say, with the helping hand of Thaksin, the first Southeast Asian face to grace the EPL pitch would without a doubt going to be a Thai. Who knows, 20 years from now, maybe even half the squad is Thai? Laugh all you want. It may just happened. Wenger and Houllier are know to favour French imports while Benitez is Spain. Did Fergie not in recent months starting to court South American players?
Let's put on our vision goggles of creative imagination, shall we?
Imagine, Thai players on the pitch of a ManCity game. Mann..... are we in for a lot of problems!!
Problem #01 - Name
Try printing Choonhavon Bhumipol on the back of the jersey. So many letters how to fit? Mind you, there is a not a First Name + Last Name. That is a two-word surname!
Don't say jersey cannot fit. Even the TV screen also cannot fit ok!
If reading Thai names is a problem, wait till the commentators pronounce them. Can you say Yongchaiyudh? If you can't, can you see an even bigger problem for the ang moh commentators? Imagine ManCity is awared a direct free-kick right outside the box. By the time, the commentator finish saying the name, the screen is already showing ManCity celebrating the goal and jogging back to their half for the restart!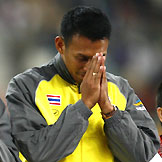 Problem #2 - Thai Culture
Speaking of goals, well...... one thing I must say is that Thai people are a very polite bunch of people. You really got to love them for that.
Imagine the Thai goal scorer having to apololgise to the opposite goalkeeper for scoring a goal with palms together and saying "khor thot".
Being polite doesn't mean that the Thai people are easy pushovers. Piss one of them off, and he will unleash his Thai kickboxing on you and send you flying out of the stadium.
Thereafter, palms together again, he would bow in the general direction of which he just sent you flying and "khor thot".
And speaking of Thai Kickboxing. I think protective shin pads are optional for them while double shin pads are compulsory for everybody else.
Problem #3 - Lady Boys
Don't laugh for these folks are generally as accepted in Thai society as you and I. Gotta give them credit for all embracing tolerance.
Imagine players with boobs, make-up, boobs, manicure, boobs, pweety pweety hair and boobs! I remember how the girlfriends from our gang used to follow football together with their respective boyfriends, especially during World Cup season. But for these ladies, they look at the hot bods of Roberto Baggio, Klose, Beckham, C.Ronaldo, just to name a few while the rest of the blokes watch the game for the er..... game itself.
Give "half-ball" also got new meaning liao. Hur hur hur....

With these Tiffanys coming unto the pitch, I think the guys will have hot bods to oogle at too. Lucky, Thaksin never buy Tottenham Hotspur. I hate to imagine what it would be like for them to be playing when it's raining.
Image Credits: http://www.aftonbladet.se, http://www.chinadaily.com.cn
- Voxeros